Radiofrequency microneedling ( RF Microneedling dubai ) is used to rejuvenate the skin. It can target acne scars and early signs of aging, like fine lines and sagging.
RF Microneedling dubai Marina
Best RF Microneedling dubai
Best RF Microneedling dubai Marina
Best RF Microneedling marina
Microneedling Dubai price
Microneedling Dubai Offers
RF Microneedling uses a gold plated needle device which gently penetrates the skin to deliver radio-frequency deep into the dermal layers of the skin. The radio frequency heats at depths that provide cumulative and ongoing benefits of collagen stimulation, skin tightening and resurfacing.
What is Radio frequency microneedling good for
Radiofrequency microneedling is a cosmetic procedure. It uses tiny needles and radiofrequency waves to rejuvenate facial skin. The treatment is a form of controlled skin injury. The damage stimulates the growth of healthy new skin, which can benefit common skin issues like acne scars and wrinkles.
Rf microneedling in which areas of the body can be used
Also known as collagen induction therapy, microneedling is a non-surgical procedure that can shrink the size of your pores, wrinkles, and acne scars and treat dark spots, stretch marks, and uneven skin tone. Microneedling can be performed on the face, neck, chest, arms, hands, legs, stomach, and back.
Is microneedling with RF worth it
Treats A Number Of Skin Complaints
Beyond the benefits of skin tightening and smoothing, the procedure can help fade the appearance of scars and stretch marks. It benefits the skin, both structurally and superficially. These are just some reasons why Radiofrequency Microneedling is totally worth it!
How long does microneedling RF last
one to two years
Like other nonsurgical skin rejuvenation treatments, Radio Frequency Microneedling is not permanent. Results last one to two years, depending on the device used, the intensity of your treatment, how your body responds, and your skin care routine.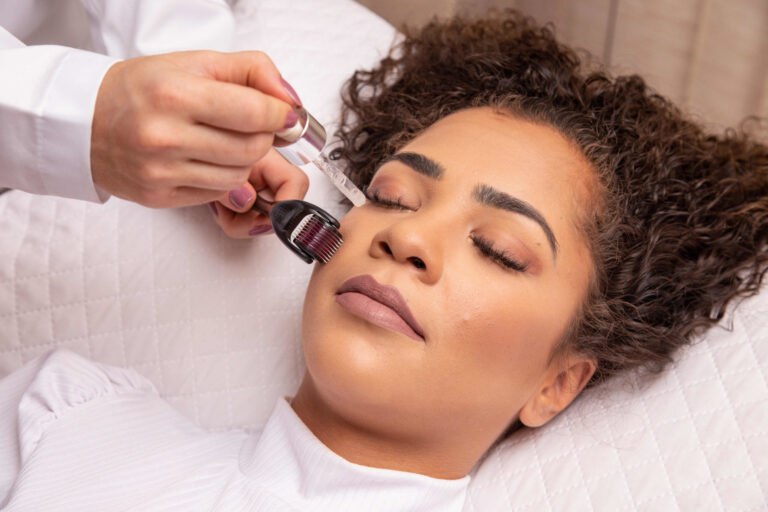 What will my face look like after RF microneedling?
After the healing period is complete, your skin appearance will improve, almost glow, from Secret RF treatment. This usually occurs after about five days. You will notice smoother and more luminous skin, likely with softer lines and wrinkles.
Who is a good candidate for RF microneedling?
A good candidate for Potenza RF Microneedling is anyone who wants to address fine lines and moderate wrinkles on the forehead or around the eyes, texture irregularities on the skin, tightening to the skin, uneven skin tone from sun damage, acne scars and stretch marks.
Is RF microneedling painful?
To help minimize discomfort during RF microneedling, a topical numbing agent is applied to the skin prior to treatment. Patients may notice a warm sensation and a pricking or scraping feeling during this treatment, but it is not typically painful.
Does microneedling tighten skin?
Microneedling is generally a safe and effective procedure that can improve the appearance of the skin. It may reduce wrinkles, diminish scarring, and tighten or rejuvenate loose or aging skin.
Can microneedling help with eye bags?
Microneedling can be an effective treatment option for fine lines, under-eye bags, puffiness, hyperpigmentation, acne scars, and even stretch marks. The versatility of a microneedling treatment is what makes it beneficial for patients with varying skin tones and skin types.
Does RF lighten skin?
This heat stimulates collagen production and that, in turn, triggers tissue contraction. The overall result is tighter, brighter skin and a significant reduction in sags and wrinkles. That is why this treatment is often referred to as a "Radiofrequency Facelift".
How often should I get Radiofrequency microneedling?
once every four to six weeks in Beauty Clinic Dubai
Your treatment frequency is important, especially if you need to build collagen to reduce scarring, fine lines, and wrinkles. The more consistent your treatment is, the better and quicker your results will be. For most patients, the ideal treatment frequency for Radiofrequency microneedling is once every four to six weeks.
Have Questions? Get a Free Consultation!
Just Submit Your Details & We'll Be In Touch Shortly.