Evolve Nonsurgical

dubai
Trim is a hands-free radio frequency vacuum
body contouring
and
body sculpting
non-surgical treatment that targets body fat.
This treatment helps reduce body fat on any body part: stomach, back, arms, legs, isolated areas (axillary, back roll, etc.). Up to 20% of fat reduction!
Evolve Nonsurgical Treatment Dubai Marina
Best Evolve Nonsurgical Treatment Dubai
Best Evolve Nonsurgical Treatment Dubai Marina
Evolve Nonsurgical Body Treatment Dubai
Best Evolve Nonsurgical dubai marina
body contouring dubai or body sculpting dubai
Body contouring

dubai

dubai
or
body sculpting

dubai
 is a medical or surgical procedure that aims to reshape an area of the body. It may involve procedures to:
Get rid of extra skin.
Eliminate excess fat.
Reshape or contour the area.
Body contouring
dubai
or body sculpting
dubai
does not usually help you lose weight. Instead, it helps shape the body and address specific areas where weight loss isn't effective or after significant weight loss results in extra skin. Serenity Beauty Clinic is professionally engaged in
body contouring in Dubai
or
body sculpting in Dubai
. Contact our clinic for
body contouring
or
body sculpting
and get a free consultation.
What is Evolve nonsurgical body contouring?
Evolve is an industry-leading body sculpting platform that remodels your skin, tones your muscles, and targets adipose (fat) tissue, with a single type of nonsurgical system. Known as the next generation in body sculpting, Evolve provides superior skin tightening and body contouring results.
This entirely hands-free treatment harnesses the power of radiofrequency (RF) energy. As RF waves penetrate through the top layer of your skin, they gently elevate the temperature of underlying tissues deep below.
How EVOLVE Body Contouring Works ?
EVOLVE is the latest technology approved by both Health Canada and the U.S. FDA for non-invasive body contouring. This versatile and powerful platform has multiple treatment modalities to:
TITE-n loose skin
TRIM excess fat
TONE muscles
TRIM is the fat reduction component to the EVOLVE platform. It combines radiofrequency (RF) energy, gentle suction to stabilizes your tissue, and a comfortable energy pulse to permanently destroys unwanted fat cells. This exciting platform can also reduce the appearance of cellulite. RF energy safely and uniformly warms the skin and upper fat layers. A process referred to as "electroporation" results in small perforation of the fat cell membranes which causes destruction of these otherwise stubborn cells. Another benefit is the stimulation and subsequent formation of new collagen and elastin fibers. More collagen, more elastin, and fewer fat cells achieve slimmer and smoother contours.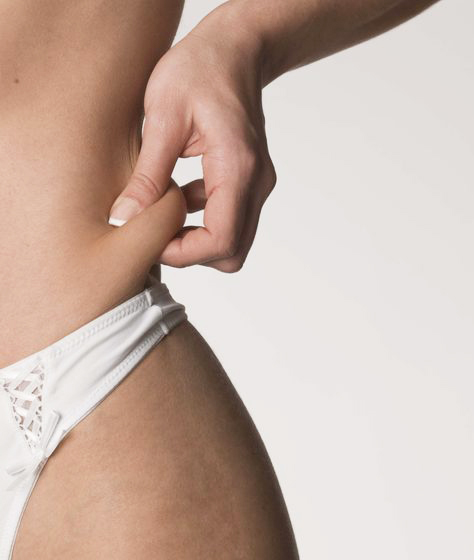 TITE is the skin remodeling and tightening component on the EVOLVE platform. For patients with loose skin, TITE utilizes bi-polar radio-frequency energy to warm the tissue to a comfortable, uniform and carefully controlled 43 degrees C.  This stimulates the formation of new collagen and elastin fibres – a necessary component of younger-looking skin. Unlike other devices which can lead to some areas becoming too hot to tolerate and other areas too cool to be effective, EVOLVE TITE adjusts each applicator multiple times per second to make these treatments more comfortable and more effective.
TONE is the muscle-toning component to EVOLVE. It uses electrical muscle stimulation to target and stimulate the deeper muscle layers causing involuntary muscle contractions. The treatment targets specific muscle groups to increase muscle strength and refine the appearance of your muscles.
Potential Benefits EVOLVE
The versatility of the EVOLVE platform offers a range of body contouring and anti-aging benefits to our Vancouver-area patients. Some of the concerns EVOLVE can treat include:
Loose skin
Cellulite
Pockets of stubborn fat
TITE & TRIM: Abdomen, arms, braline, flanks, knees, thighs, buttocks
TONE: Abdomen and buttocks
Body contouring Dubai price
To know the price of body contouring Dubai, contact us now and take advantage of our attractive discounts and packages along with knowing the price of body contouring dubai.
Body contouring surgery and its types
Losing a lot of weight after dieting, gastric surgeries or after pregnancy can cause changes in skin laxity. Body contouring is one of the methods that help you to have a new and better body shape.
Body contouring is a surgical method that helps to improve the appearance of skin and tissue after severe weight loss.
Body contouring surgeries can include removing excess skin from the lower abdomen, liposuction, a variety of lifts such as arm lift, lower limb lift, inner thigh lift.
Breast lift or breast prosthesis are among the surgical methods that help to change the shape and remove the fat and sagging skin of the breasts after pregnancy and breastfeeding.
If you are looking for a way to get rid of unsightly fat and excess skin, 360 degree body lifting or body contouring is the perfect option, which is a customized body contouring procedure for patients who want to get rid of fat and Skin lift is used in all parts of the body.
Body contouring uses a combination of several techniques to sculpt and contour the entire midsection, which is an additional step compared to tummy tuck and liposuction. The procedure involves removing excess fat and skin around the entire waist, back, and abdomen. Then the abdominal muscles are tightened to a certain extent to change the shape and the middle area, waist and sides.
Some surgeons also use their innovative methods to achieve amazing results with the body contouring method and offer a customized method for each patient and it is a method in which almost all areas of the body including the waist, hips, abdomen, Arms and thighs are reconstructed. Actions performed in body contouring include: arm lift, breast lift, abdomen, waist and thighs.
What is body contouring surgery?
Usually, in many cases, after severe weight loss, patients need to undergo body contouring surgery. Lift surgeries are usually performed when the amount of skin sagging is high or when liposuction does not bring good results.
The method of performing body contouring surgery
360 degree body contouring is performed under general anesthesia. This method is done by making strategic incisions in the middle areas of the patient's body. These incisions allow the surgeon to access fat deposits with liposuction without stretching the skin. Once your body is cleanly shaven, the incisions are closed. The surgery will take about 4-6 hours.
What can body contouring surgery do?
Advanced surgical techniques such as 360-degree body lifting and removing fat from some places and injecting fat to other places change people's appearance.
Body contouring often includes liposuction along with a full body lift to accentuate the attractive contours of the body, which is a method of fat removal. Body contouring is not a solution to weight loss, but a tool to get rid of the last stubborn fat that won't go away with exercise and dieting. This procedure, when performed in conjunction with a body lift, helps to sculpt the body and smooth out any unwanted fat. The result of body contouring surgery combined with body lift and liposuction is much more impressive.
Types of body contouring surgeries
Among the methods of body contouring, the following can be mentioned:
Liposuction is the most popular surgical procedure. Suitable candidates for this surgical method are people who have reached an ideal and stable body weight, but are dissatisfied with the presence of localized fat that has not been removed despite exercise and diet. Although liposuction is performed under general anesthesia, it is considered an outpatient surgical procedure.
Abdominoplasty or tummy tuck is a surgical procedure that is performed on the abdomen. In this surgical method, a long incision is made from one side of the thigh to the other end to allow the removal of excess skin and fat as well as the stretching of the abdominal muscles.
Women and men who are in perfect physical and physical health, but are tired of accumulating excess fat in their abdomen and have not achieved their desired results despite exercise and diet, can benefit from the benefits of abdominoplasty. People who intend to lose weight or become pregnant after abdominoplasty in the future should delay surgery.
Breast lift is another method of body contouring, which is done with the aim of removing excess skin and changing the shape of the breasts. The incisions of this surgical procedure can be made in one of the following three areas:
Around the brown halo around the chest
Around the brown halo under the chest
Along the natural folds under the breast
In some cases, the nipple needs to be repositioned and placed in a higher area.
Arm lift or brachioplasty is a type of body contouring surgery that is performed with the aim of removing excess skin from the upper arm. The point that we should mention is that the arm lift is not a substitute for weight loss and people who want this surgical procedure must have reached an ideal body weight.
During surgery, a longitudinal incision is made between the elbow and the armpit. Of course, the incision can be shortened according to the patient's anatomy. Excess skin and fat and remaining skin are lifted to help improve the beauty of the arms.
Thigh lift is one of the other methods of body contouring surgery, which is associated with the removal of excess skin and fat from the inner part of the thigh. In order to perform the surgery, a long incision is made in the inner part of the thigh, which of course will leave a long scar.
But fortunately, the position of the scar is such that it will be hidden in the bikini line. Excess skin and fat will be removed through the incision and a dressing will be placed over the area.
Who can undergo body contouring surgery?
Adults who are 30% of their ideal weight have flexible skin and good muscle strength.
Healthy people who do not have an underlying or dangerous disease and can tolerate the operation well and recover quickly after it.
Non-smokers and people with a healthy lifestyle.
People who have a positive outlook and clear and logical goals for body contouring.
People who have excess fat deposits anywhere in the body that are resistant to diet and exercise.
People who want to get rid of loose skin and excess fat tissue after drastic weight loss.
People who need to tighten and adjust the skin in the middle part of their body after pregnancy and childbirth.
Care before body contouring surgery
Depending on which parts of the body are involved and how much fat is removed from the body, this surgery is performed from minor to major surgery. Body contouring is usually considered a major surgery and requires preparation to ensure that the operation is successful. It is going well and successfully. You should also plan your recovery ahead of time to make sure you have everything you need. Here are some tips that can help you prepare for body contouring surgery:
Drink at least two liters of water a day before surgery.
Remove any lotion from your skin before treatment.
Trim the body hair near the area to be treated.
Do not eat from the night before the operation until the time of the operation.
Alcoholic beverages and substances containing caffeine are also among the items that are prohibited for consumption at least one day before the operation.
Weight loss before body contouring surgery
This surgical procedure is not a substitute for weight loss and does not prevent weight gain in the future. This means that you should maintain your weight at or near your ideal weight before undergoing surgery. Otherwise, the results of the surgery will be lost if you start gaining weight again. Fortunately, activities such as a nutritious diet and adequate exercise will lead to healthy and sustainable weight loss and prepare you for body contouring. During preparation it is important to maintain a healthy lifestyle and maintain a stable weight. Fluctuations in weight may delay your surgery.
Quit smoking before body contouring surgery
Smoking is one of the main causes of contouring surgery complications. Smoking deprives your tissues of oxygen, delaying wound healing and increasing the chance of tissue death and excessive scarring. You should stop smoking at least two weeks before your surgery.
Adjustment of current medications before body contouring surgery
There are over-the-counter and prescription medications and supplements that can cause problems during surgery. These drugs include drugs that:
Prevent blood clots
They cause excessive blood clotting
They interact with anesthetic drugs
If you are using prescription medications that are contraindicated during body contouring surgery, your surgeon may recommend that you discontinue them temporarily or take additional precautions against side effects during surgery.
Consultation before body contouring surgery
Before the operation, the surgeon makes a general assessment of the patient's condition and his expectations. In the consultation, you can understand how your body will change after body contouring. This session is an opportunity for you to discuss your beauty goals with a professional body contouring surgeon. By taking a medical history and examining your general health, past medical history, and current medications, your doctor will obtain useful information to determine whether body contouring is the right choice for you.
Scars after body contouring surgery
Although minimal incisions are used in surgery, small scars may remain after surgery. Over time, the scars fade and merge with the skin. You should spend at least 12 months to heal liposuction incisions. The amount of liposuction scars can depend on genetics and how the patient's body reacts to recovery, as well as the technique used during surgery, as well as the patient's skin pigmentation. You should take special care after the operation and use compression garments. Also, carefully follow the instructions for wound care, diet and sports activities.
Recovery period and care after body contouring
General anesthesia is usually used for all body contouring procedures.
After surgery, a drain needs to be attached to the patient to drain excess blood and fluids. How to use and care will be told to the patient.
The patient needs to use a special gel for six to eight weeks.
It is completely normal for the patient to feel pain and discomfort for a few days and he can use the painkillers prescribed by the doctor. The recovery period will be about a few months, depending on the method.
The results of body contouring methods will be different in each disease.
What are the results after body contouring surgery?
Results will be visible immediately! This surgery smoothes the contours of the body and dramatically creates a natural and slim figure, with a shapely waist and all parts are contoured accordingly. There is some post-operative swelling and bruising that will heal.
Have Questions? Get a Free Consultation!
Just Submit Your Details & We'll Be In Touch Shortly.