Aquagold Treatment Dubai Marina by Serenity Clinic : AquaGold is a microneedling treatment that uses tiny 24 karat gold needles to apply hyaluronic acid and Botox just below the skin's surface for long lasting results.
Aquagold Treatment By Serenity
aquagold treatment dubai Marina
Best aquagold treatment dubai
Best aquagold treatment dubai Marina
Best aquagold dubai marina
AQUAGOLD uses similar technology to traditional microneedling. This device works by using very fine needles to penetrate the superficial layers of the skin. In this way, we can deliver products such as dermal fillers and wrinkle relaxers along with other ingredients in a controlled manner.
AquaGold is a very superficial microneedling procedure that deposits hyaluronic acid and fillers like Juvederm and Botox into the top layers of the skin, to create a smooth texture with reduced pore size. This technique produces a natural appearing outcome, without any of the tell-tale signs of being injected.
Where does Aquagold affect?
The Aquagold facial treatment works on the full face, neck, around the eyes, eyelids and up to the lash line, on and around the lips, back of hands and décolleté.
Because AQUAGOLD uses ultra-fine needles thinner than a human hair, this treatment device is virtually pain-free.
HOW MANY AQUAGOLD TREATMENTS WILL I NEED?
Most patients see great results from just 1 treatment.
Is Aquagold FDA approved?
AquaGold® Fine Touch™ is an FDA approved micro-channeling injection device that delivers a customized blend of products deep into the skin by way of 24k gold needles.
Benefits:
The Aquagold facial device will target fine lines and wrinkles, smooths crow's feet, refines pores, target pigmentation, acne scarring, dryness, tone, texture, boost hydration and luminosity for a glow that lasts up to 4 weeks.
How long does Aquagold facial last?
Results can be seen immediately, but are mostly seen within 3-7 days after treatment and typically last approximately 3-4 months. The procedure can be done as often as every 1-3 months, doing several treatments throughout the year will continue to improve overall appearance of skin.
When will I see results from AquaGold?
Results can be visible from the day after treatment, however, most will see results within 3-4 days after treatment.
HOW MANY TREATMENTS WILL I NEED?
The results of the AquaGold fine Touch treatment can be seen after only one treatment.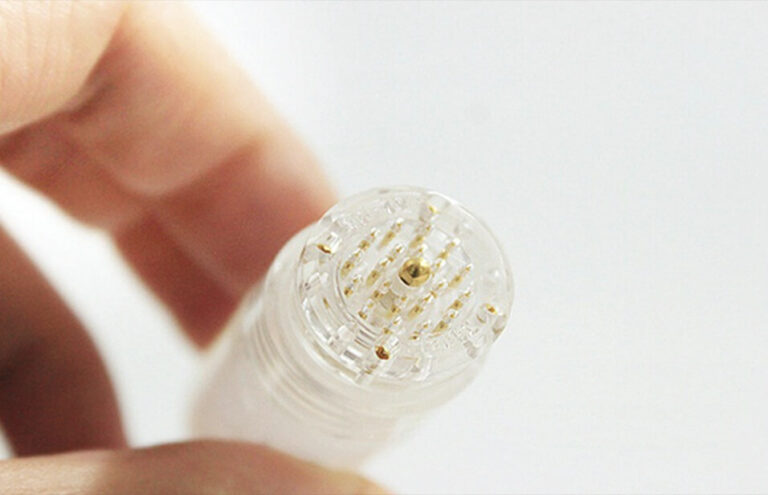 How often should I have Aquagold fine touch TREATMENTS?
The Aquagold fine touch treatment can be had as often as every 4 weeks or as and when you want a skin nourishment boost! Micro-infusion facial treatments are perfectly safe and your clinician can advise you of the recommended treatment length for your skin type.
WHAT CONDITIONS CAN AQUAGOLD FINE TOUCH TREAT?
Dependent on the ingredients of the Aquagold serum your clinicians chooses, the Aquagold fine touch can address:
Pigmentation
Acne & Scarring (not active acne)
Fine Lines & Wrinkles
Enlarged Pores & Excess Sebum
Redness & Flushing
Brightening and Lightening
Clarifies & Refine
Hydrates & Rejuvenates
Skin elasticity
Hair loss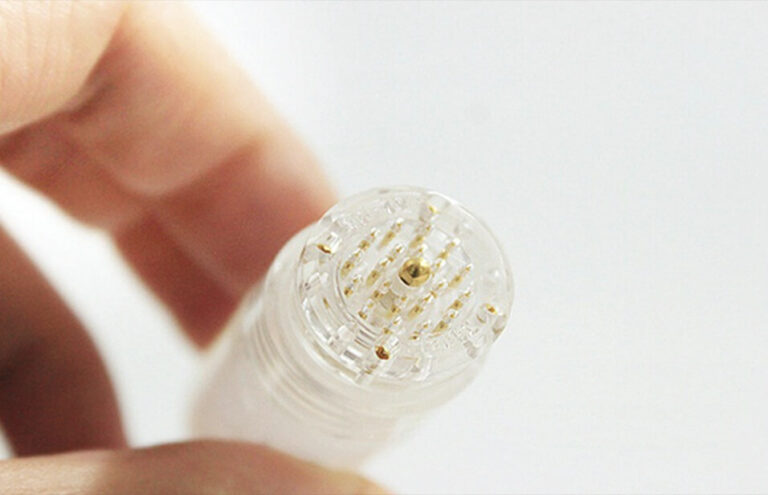 Smooth your skin with dermal micro-hyaluronic gel
Reduce pores, redness and oil production with micro-toxins
Improve superficial acne scarring with micro-hyaluronic gels
Enhance laser treatments with micro-serums containing growth factors
Brighten skin with micro-pigment reducers
What do you do after aqua gold facial?
Wash the treated area gently with a gentle cleanser and you may apply moisturizer (which does not contain "anti-aging" ingredients) thereafter. You may resume your normal daily skin routine the day after treatment. Sun exposure must be avoided for at least 24 hours after your treatment – preferably 1-2 weeks.
Can you wear makeup after aquagold?
Avoid putting makeup on after treatment, Avoid direct sun exposure immediately after treatment.
What should you not do after Aquagolding?
We advise no make-up until the next day, we advise not to wash their face for at least 8 hours after the Aquagold treatment. No swimming, saunas or steam rooms. Non-comedogenic sunscreens can be applied.
Have Questions? Get a Free Consultation!
Just Submit Your Details & We'll Be In Touch Shortly.