CoolTech Fat Freezing Dubai Marina by Serenity Clinic : Get a slim body safely, without surgery or recovery time, and achieve the figure that you have always wanted.
CoolTech Fat Freezing Dubai By Serenity
CoolTech Fat Freezing Treatment Dubai Marina
Best Fat Freezing Dubai Marina
Best CoolTech Fat Freezing Dubai Marina
Best CoolTech Fat Freezing Dubai Marina
Do You want to Improve your figure quickly and safely?
Even with a diet and a training plan, it is often difficult to reduce fat in certain parts of our body.If Going under surgery is not in your plan and you want something effective and fast, Cooltech is what you're looking for.Cooltech will help you to reduce the fat deposits that you have been trying to eliminate for years.It is advanced cryoadipolysis technology that applies controlled cold down to the deepest layers of the skin. 
It safely freezes the fat cells so they die in a controlled way and yourbody naturally expels them.These treatments can be applied to small areas, such as the arms and submental, as well as larger and more commonly problematic areas, such as the abdomen and thighs.Cooltech is the most exclusive and safe device for cryoadipolysis treatments. This is a fantastic alternative to liposuction with minimal discomfort and no downtime.The body starts disposing these fat cells within 15 days of the treatment, and continues to do so for up to 3 months.The best part? Once disposed, these fat cells are gone for good. One session of Fat Freezing with CoolTech results in 20-25% fat reduction in the treated area (which translates to 5-7 cm).
you would be an ideal candidate if you :
1. Have stubborn fat that doesn't respond to a healthy lifestyle, diet and exercise
2. Want to reduce fat in specific areas of your body, like your belly, arms, thighs etc
3. Have tried dieting & exercise to no avail
4. Do not wish to undergo invasive treatments that have a long recovery period
What is CoolTech Treatment
Cooltech treatments is localized fat reduction. this technology freezes the adipose tissue at -8º in a totally safe and non-invasive way. During the freezing process of the fat tissue, only the fat cells are damaged. This is because these cells are rich in fatty acids, which begin a freezing process at temperatures as high as 10º. Prior to the treatment, the areas to be treated will be defined according to the type of tissue and fat fold. Once defined, the most appropriate handle for your treatment will be chosen. This innovative system enables us to simultaneously treat two areas at once providing visible results from just first session The treatments is very safe, your skin will be protected at all times with our own-developed technology of cryoprotection which is patent pending, Cool Gel Pad, an anti-freeze doble gel wipe that will keep your skin in perfect condition.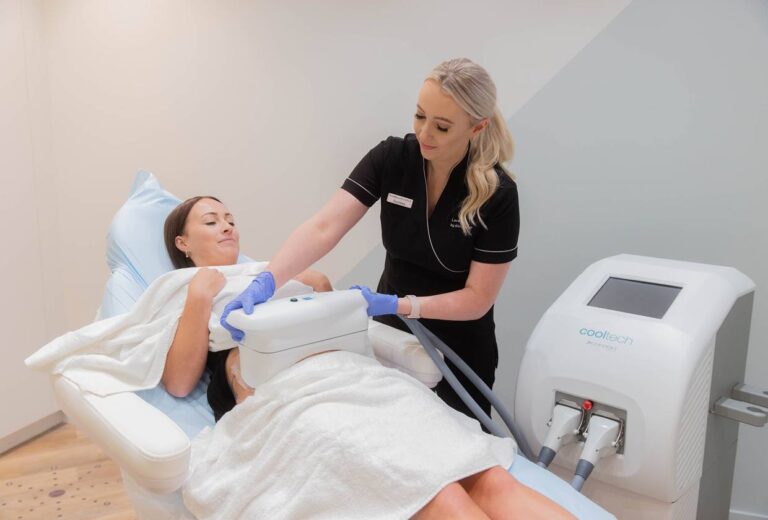 CoolTech Treatment​ Areas
Cooltech treats most areas of the body, its handles have been designed to adapt to both soft and hard tissues, flat and curved areas.
Submental
Flank
Suprapectoral
Infrapectoral
Supraumbilical abdomen
Infraumbilical abdomen
Arm
Outer thigh
Inner knee
Frontal upper knee
Pubis
Suprascapular
Infrascapular
Cryoadipolysis is a safe non-invasive technique that activates the apoptosis procedure by applying controlled cooling to remove a significant number of fat cells permanently. this process of fat elimination is natural and physiological.
Achieve your dream body with CoolSculpting dubai by serenity. Get a slim and toned body at serenity.
Lose unwanted fat with Zeltiq CoolSculpting dubai. Removes excess fat cells safely & permanently. Safe and long lasting.
CoolSculpting Dubai offer
If you are looking for a CoolSculpting Dubai offer, we at Serenity Beauty Clinic have prepared attractive offer packages for you.
Contact us for CoolSculpting Dubai offer.
Have Questions? Get a Free Consultation!
Just Submit Your Details & We'll Be In Touch Shortly.