Inbody Scan in Dubai , Inbody Analysis in Dubai The InBody test is a non-invasive body composition analysis that provides a detailed ... your complimentary fitness assessment includes 1 InBody scan Marina.
Inbody Scan ( Inbody Analysis ) By Serenity
Inbody Scan in Dubai Marina
Inbody Analysis in Dubai Marina
Best Inbody Scan in Dubai
Best Inbody Analysis in Dubai
Why should I get an InBody scan?
The InBody test and body composition testing can be an invaluable tool for your health. Assessing your body composition can not only help you reduce your risk for disease but allows you to understand more about your body then just the number on the scale.
What does InBody measure?
Body Fat Percentage – the percentage of your body that is made up from fat tissue.
Lean Muscle Tissue – the amount of your overall weight which is lean, skeletal tissue. This is healthy, active tissue.
Fat distribution within the body – The InBody results sheet splits your body into segments displaying areas of your body, how much fat each area is carrying and how much is there in terms of percentage and kilograms ith guidance as to whether the levels are safe or too high.
Muscle distribution within the body– The InBody results sheet shows whether your body equally balanced in terms of muscle distribution. If you are 'lop sided' this could potentially lead to injuries caused by imbalance. Helping you to identify areas of the body that may need more attention with regards to strengthening is a great benefit of the InBody assessment.
Visceral fat score – Visceral fat is the dangerous fat that can build up and surround the vital organs within the body. InBody looks at whether you are within safe levels or whether your scores are high and need attention.
Water weight– amount of water storage within the body, that is the ideal amount for levels of hydration that the human body will perform best with.
What Is Bioelectrical Impedance Analysis ?
Bioelectrical Impedance Analysis (BIA) is a method of quantifying body composition by introducing an electrical current throughout the body.
InBody use this method to measure body composition, which divides your weight into different components, such as water, lean body mass and fat mass, to better understand how changes in diet, lifestyle and training regime are influencing overall body composition.
Bioelectrical Impedance Analysis measures impedance by applying alternating low-level electrical currents through the water in the body. The InBody measures each segment separately and shows the impedance values of all five cylinders of the body at each frequency in the impedance section of the InBody Result Sheet.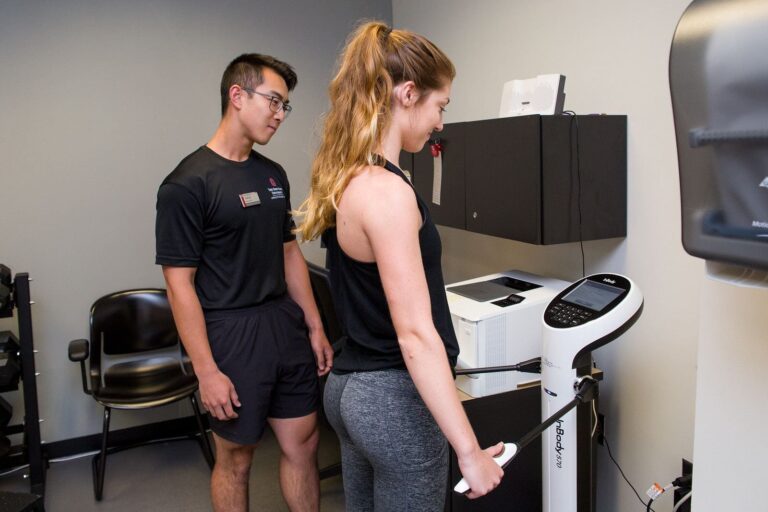 InBody uses multiple frequencies to provide a precise analysis.
Electrical currents have a different penetration force depending on the frequency. Low frequencies measure the water outside the cell (extracellular water), as they are unable to penetrate the cell wall.  Higher frequencies will measure the water content inside the cell (intracellular water) because it penetrates the cell wall.
By using a diverse set of frequencies, the InBody can measure water contents inside and outside the cell separately. Controlling the path of high frequency waves is very difficult. This technical know-how is an InBody specific specialty and has been accumulated over many years of experience in the field.
8-Point Tactile Electrode System With Thumb Electrodes
When measuring impedance through any type of electrode, contact resistance occurs. It is important to control the contact resistance, in order to correctly measure the resistance in the body.
The 8-point tactile with the thumb electrode method separates the current and voltage starting point. This measurement then always begins at a fixed point in the wrists and ankles. This is advantageous, as the contact resistance from the skin has been removed. This method along with InBody's other unique technology creates a high precision of reproducing results that InBody are renowned for.
No Statistical Data Needed
InBody is the only BIA device that determines body composition without relying on age and gender to make assumptions about your body composition. The results are extremely precise, and as unique as the person standing on the device.
You can change your age and/or gender on an InBody and your personal results will not change, because you have not changed. InBody requests age and gender simply as a way of providing relevant guidelines on your result sheet.
This is one of the underpinning reasons why InBody is used around the world in extensive studies and utilised by top sports people, medical institutions and NASA.
Have Questions? Get a Free Consultation!
Just Submit Your Details & We'll Be In Touch Shortly.