Root Canal Treatment Dubai
Root Canal Treatment Dubai Marina : Step-by-step explanation of how root canal treatment is performed. Endodontists save millions of teeth each year with root canal treatment.
Root Canal Treatment Dubai Marina
What is root canal treatment?
A "root canal" is not a treatment, but part of a tooth. It is the hollow section of a tooth that contains the nerve tissue, blood vessels, and other cells, also known as the pulp.
A tooth consists of a crown and roots. The crown is mainly above the gum, while the roots are below it. The roots attach the tooth to the jawbone.
Inside the crown and the root, or the root canal, is the pulp. The pulp nourishes the tooth and provides moisture to the surrounding material. The nerves in the pulp sense hot and cold temperatures as pain.
The name of the dental procedure commonly referred to as a "root canal" is actually endodontic therapy, which means "inside the tooth."
However, the term "root canal" has come to be commonly used to talk about the procedure.
Root canal treatment is done in three steps, and it takes between one and three sessions to complete.
Cleaning the root canal
Filling the root canal
Adding a crown or filling
How painful is a root canal procedure?
For many patients, getting a root canal is no more painful than getting a cavity filled thanks to the use of local anesthetic and modern endodontic techniques. Most people report feeling comfortable throughout their procedure, feeling pressure and movement at times, but not pain.
Root canal treatment is generally safe and effective, with a success rate of more than 95%. Like any other medical or dental procedure, though, a root canal can occasionally fail. This is normally due to a loose crown, tooth fracture, or new decay. Root canals can fail soon after the procedure, or even years later.
1. Cleaning the root canal
First, the dentist removes everything that is inside the root canal.
With the patient under local anesthesia, the dentist makes a small access hole on the surface of the tooth and removes the diseased and dead pulp tissue with very small files.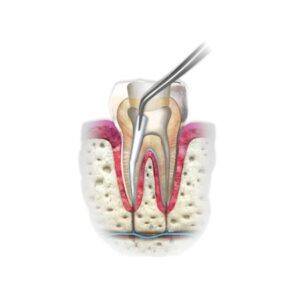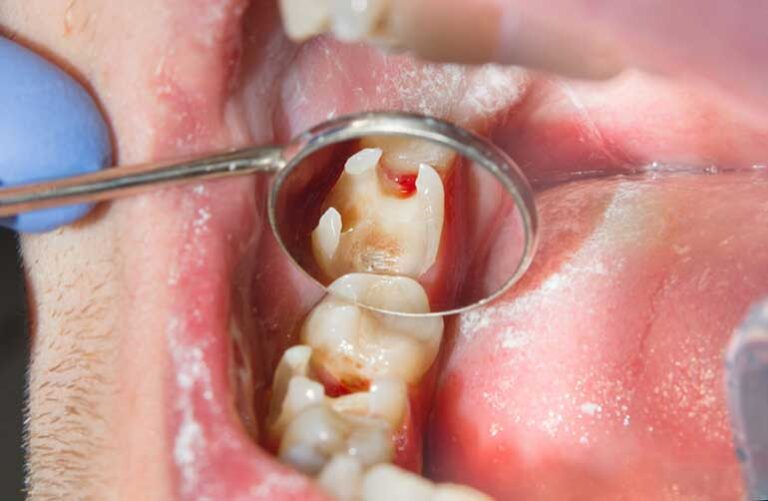 2. Filling the root canal
Next, the dentist cleans, shapes and decontaminates the hollow area, using tiny files and irrigation solutions. Then, the tooth is filled with a rubber-like material, using an adhesive cement to seal the canals completely.
After root canal therapy, the tooth is dead. The patient will no longer feel any pain in that tooth because the nerve tissue has been removed, and the infection has been eliminated.
3. Adding a crown or filling
However, the tooth will be now more fragile than it was before. A tooth with no pulp must receive its nourishment from the ligament that attaches the tooth to the bone. This supply is adequate, but in time, the tooth will become more brittle, so a crown or filling offers protection.
Until the crown or filling is complete, the patient should not chew or bite on the tooth. Once there is a crown or filling is done, the person can use the tooth as before.
Treatment often takes only one appointment, but if there are curved canals, multi-canals, or large infections, this could take one or two additional appointments.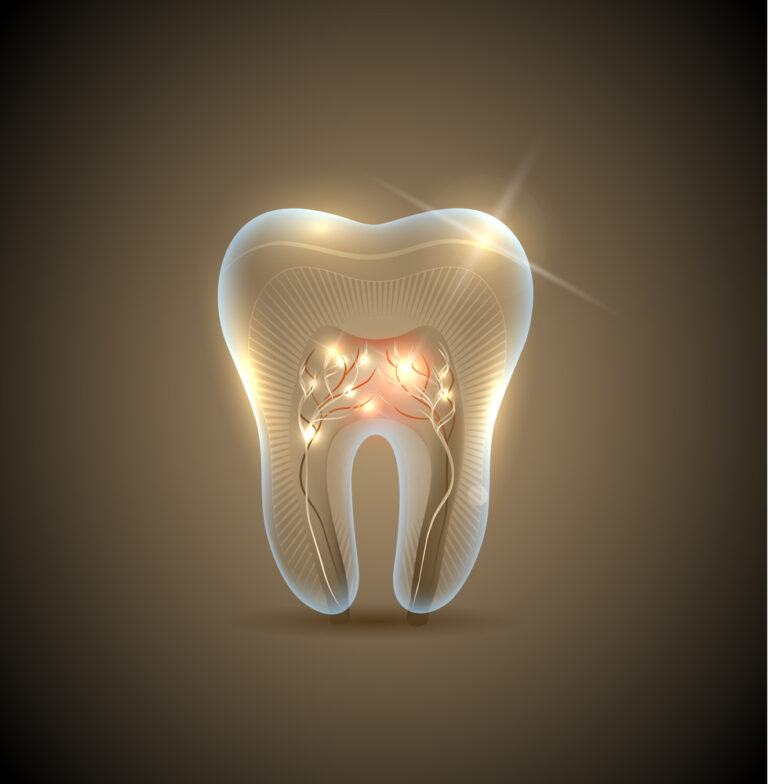 If the pulp becomes injured or diseased, it cannot repair itself, and the tissue dies.
If there is a deep cavity, a cracked tooth, or a loose filling, bacteria can enter the pulp.
The bacteria will eventually destroy the pulp. If the bacteria penetrate through the root openings, it can cause an infection in the bone.
An infection will weaken the bone and break it down. The ligaments around the tooth will swell, and the tooth will become loose.
A pulp injury will make the tooth sensitive to high and low temperatures. There may be pain when chewing, and some people have a continuous, throbbing pain.
Without treatment, the infection will spread. Eventually, the tooth will become loose and need extracting.
Some patients opt for extraction, especially if it hurts a lot or if the tooth cannot be restored, for example, if there is large decay, trauma, or loss of bone due to periodontal, or gum, disease.
However, removing a tooth may mean that the surrounding teeth start to move and become crooked. This can look unsightly, and it can make it hard to have a good bite.
Root canal therapy will usually save the tooth and eliminate the pain.
If the tooth cannot be saved, the next best option is an implant.
However, saving the natural tooth is best, if possible, because nothing functions as well as a natural tooth.
Have Questions? Get a Free Consultation!
Just Submit Your Details & We'll Be In Touch Shortly.
Root canal treatment (endodontics) is a dental procedure used to treat infection at the centre of a tooth.
Root canal treatment is not painful and can save a tooth that might otherwise have to be removed completely.
Root Canal Treatment is done in 3 stages:
Stage 1: involves removal of the dead nerve and the gross infection.
Stage 2: this involves further cleaning and shaping of the canals.
Stage 3: this is the last stage in the completion of treatment which involves filling the canals with an inert filling material.
How long does Root Canal Treatment recovery take? Typically, root canal recovery time lasts less than a week. Mild discomfort may be present for a few days, but this can be managed with medication.
If you have severe pain or discomfort that lasts longer than a week, call your healthcare provider.
All About Root Canals. A Root Canal Treatment (also known as an endodontic treatment) is a serious procedure, but one that specialists handle every day. Before engaging in any type of dental work, it's important to know the facts about root canals.
The Root Canal Treatment procedure is completed in two separate visits to ensure that the tooth is thoroughly cleaned out, sealed up, and protected from further damage.
The evidence is clear, crowning your tooth after a Root Canal Treatment Dubai is important to maintain the tooth long term.
So don't forget to make an appointment with your general dentist to restore your tooth after your Root Canal Treatment Dubai appointment!
Root canals take 3-4 appointments scheduled 3-4 weeks apart. Each appointment ranges between 30-75 minutes.
The appointments are spaced this far apart is because, although antibiotic paste is placed in the tooth, time is also needed to allow the body time to heal on its own naturally.
Soon, the discomfort will go away, but until then, you can take over-the-counter pain relievers like ibuprofen or acetaminophen. There are a few reasons that you may experience some pain even though the nerve of your tooth has been removed during Root Canal Treatment Dubai.
A successful Root Canal Treatment can cause mild pain for a few days. This is temporary, and should go away on its own as long as you practice good oral hygiene. You should see your dentist for a follow-up if the pain lasts longer than three days.
An issue with the filling or a small crack in the tooth may be causing the issue. Contact your dentist or endodontist immediately if you are feeling severe pain several days after your Root Canal Treatment Dubai or if the pain went away, then visit your dentist in a few days or the following week.
Though you may experience a slightly different sensation from your treated tooth than your other teeth for some time, you should contact your endodontist immediately if you experience any of the following symptoms: Severe pain or pressure lasting more than a few days. Visible swelling inside or outside your mouth.
Dentists have to drill through the tooth in order to get to the pulp, and additional decay might have to be removed. If the tooth is too weak to function, the dentist will add a crown to it, which will strengthen the tooth and allow the patient to use it like a natural tooth.
After this first appointment, you should no longer feel tooth pain. The second phase of treatment requires more cleaning and disinfecting, and permanently sealing the inside of your tooth with a rubber-like material. A permanent or temporary filling will then be placed, and sometimes a crown.
Unfortunately, many dentists still subject patients to this multi-appointment method. However, advances in science have confirmed that it's actually good sense to seal the canals on the same day a Root Canal Treatment Dubai is started. By doing everything in one appointment, infection is prevented and the canals are sterilized.
 You would require one shot of local anaesthetic for your RCT and one for tooth preparation which is required for the placement of your crown . Additional shots would be needed only if the anaesthetic is not effective.
The average lifespan for a well-maintained dental crown is typically around 15 years. However, when taken care of properly, it is common to see them last upwards of 25-30 years.
In most cases, Root Canal Treatment Dubai is a better way to treat an infected tooth than an extraction. However, there are exceptions, such as if the tooth has suffered extreme damage. Your dentist will carefully analyze your oral health before making a treatment recommendation.
It takes time for an infection to become evident – Some dental schools teach dentist to wait six months after Root Canal Treatment Dubai before crowning a tooth.
If you wait a long time to undergo a root canal, bacteria will attack the tip of the tooth's root, causing serious bone loss. Such bone loss can result in tooth loss.
Although a dentist can do a second or third root canal treatment—or more—on a tooth, the results are unpredictable. Even the most skilled dentists can perform root canal treatment that fails. Studies show that Root Canal Treatment Dubai has an 86 – 98% success rate.
The length of time a root canal takes typically varies on two factors: how many roots your tooth has and how bad the infection is. Typically, a root canal procedure requires one or two visits. Each visit can vary between 30 to 90 minutes on average.
Can I Brush My Teeth After a Root Canal? The short answer is yes! It's very rare that any dentist will instruct you to not brush your teeth after a dental procedure. Once the numbing medication has completely worn off, you are free to brush your teeth as you normally would.
Root canal symptoms
Persistent pain. Persistent tooth pain is one of the signs that you may need a root canal.
Sensitivity to heat and cold. 
Tooth discoloration.
Swollen gums.
Pain when you eat or touch the tooth.
A chipped or cracked tooth. 
Tooth mobility.
How To Sleep After Root Canal Treatment 
Making the room completely dark and cool.
Listening to relaxing music or sounds so your thoughts can drift without trying too hard to sleep.
Breathing in and out gently to loosen stiff body parts.
Antibiotics are not absolutely necessary after a root canal. After a root canal, you need very little time to recover, and post-operative care is the best way for fast healing. However, a dentist may recommend antibiotics before root canal to improve the chances of a successful outcome.
The signs of a root canal failure may include: Sensitivity when biting down. A pimple or boil on the jaw. Discoloration of the tooth.
If one of these canals is missed and not treated, an infection will ultimately develop and can potentially form a painful abscess. Obstruction: An obstruction (such as another tooth, filling material, etc.) may make it impossible for the dentist to reach and thoroughly clean the entirety of the canal affected.
Best Dental treatment in Dubai alternatives to a root canal include direct pulp capping, pulpotomy, pulpectomy, endodontic retreatment, endodontic surgery, tooth extraction, dental implants, bridges, or dentures.
Root Canal Treatment Dubai are performed when bacteria, introduced through a cavity or crack, compromise the nerves located inside the tooth. The bacteria cause an infection, which eventually kills the nerves. But root canals can be avoided, Teitelbaum says, in cases where the nerves are not yet infected.
It is possible for a tooth to become weaker after a Endodontic treatment . Dentists must drill through the tooth to get to the pulp, and additional decay might need to be removed. If the tooth is too weak to function, the dentist will add a crown to it.
Endodontic treatment can weaken a tooth's structural integrity, especially with older teeth. This can make them more susceptible to fracture and a higher chance of infection.
Endodontic treatment Each tooth is different and the anatomy of each one can vary greatly from the others. This makes some root canals very difficult and makes it necessary for multiple visits to achieve a successful operation.
Why do Endodontic treatment fail? As mentioned above, only about five percent of root canals fail, and sometimes it is not actually a "failure." In cases, of teeth that have more than one root, it is possible that only one root was infected and filled.
Sometimes, you can get a delayed Endodontic treatment infection on a tooth that's pain-free for some time. A tooth that's been treated with a root canal may not heal fully, and could become painful or diseased months or even years after treatment.
The endodontist removes the inflamed or infected pulp, carefully cleans and shapes the inside of the Endodontic treatment , then fills and seals the space. Afterward, you will return to your dentist, who will place a crown or other restoration on the tooth to protect and restore it to full function.
Cavities can also occur underneath the crown. Ceramic crowns are excellent at protecting teeth from further damage or decay. But they can harbor bacteria if not properly cared for. If a cavity forms underneath the crown, the cap will need to be removed and the tooth decay eradicated before replacing it.
Endodontic treatment Crowns can become loose and fall off for a variety of reasons. In some cases, there's a problem with the crown itself. In others, problems with the tooth underneath may cause the crown to fall off. A crown can become loose because of outside factors like an injury or biting down on hard food.
There is no difference between a cap and a crown. Endodontic treatment For a long time, dental crowns were referred to as caps, and even now you may still hear the term 'cap' used by older people and by those who do not work in dentistry. Most dentists today use the term 'crown' instead.
Endodontic treatment As noted on the consent form, you will need to see your general dentist within six weeks to get a permanent restoration (filling, crown) placed. A permanent restoration will strengthen your tooth, protecting against fracture and decay.
Endodontic treatment Since dental crowns are recommended in cases where about ¾ of the tooth is affected by damage or decay, they are designed to fit on minimal remaining tooth structure. Therefore, there needs to be something to cement the crown to and enough tooth to provide internal support.
How long does Endodontic treatment recovery take? Typically, root canal recovery time lasts less than a week. Mild discomfort may be present for a few days, but this can be managed with medication. If you have severe pain or discomfort that lasts longer than a week, call your healthcare provider.
Root Canal Treatment Dubai There are a couple of reasons this may happen. First, though the nerve-filled "pulp" is removed from your tooth, there are still other nerves and sensitive tissues near the canal of your tooth, and these can be irritated and become swollen or inflamed after your endodontic treatment, causing some minor discomfort.